CRAFTING WELLNESS STORY
"With Great Power Comes Great Responsibility"-Spiderman
They say, "Not all heroes wear capes, some wear stethoscopes" and that sentiment couldn't be more true with Pediatric Nurse Kash Caleron. He sat down with MDF Instruments to talk about Pediatric Nursing and how his love for making children smile literally brought out his inner superhero; Spiderman. Not only does this heralded back flipping nurse go above and beyond for his patients, he proves that never giving up on a difficult challenge only results in a sweeter victory. After failing the NCLEX three times, nurse Kash is here to show you what dreams are made of; GRIT.
Kash
I found out that my patient was a really big Spider Man fan. I said, Would you like to meet Spider Man? Like what if well, how would you? How would you feel if Spider Man was here? And you were six years old, and he had a really complex a complex case. And my nurse manager allowed me to be Spider Man. So I got changed in the nurse's station, and I'm all suited up. And I do my spider web. My spider crawl into his room. I hit a backflip inside, like spinning my webs. And he his face was static. Like imagine, like a six year old with a big smile on his face. And he's just sitting up in his hospital bed and he just can't believe that spider man is in his room. Yeah, just Spider Man doll right here. He's wearing Spider Man pajamas. And it was amazing.
Brooke Smith
Hi, everyone. Welcome to MDF instruments Crafting Wellness Podcast. Today. I am really, really excited to introduce you to a Pediatric Nurse. He also has an MSN. His name is Kash. He is also Spider Man. We have a lot to talk about.
Kash
Thank you so much for having me on the podcast. I'm honored to be with an organization that has been in the industry since 1970s. I'm cash. I'm in a pediatric nurse. I'm starting my career actually next month. I have been in nursing school for like last two years. I'm originally from New York.
Brooke Smith
So did you grow up in New York. I think I saw that it looks like on your page that you were born and raised in New York.
Kash
Yes, yes. I was born in Queens, and grew up in Long Island and a Puerto Rican Ecuadorian family. Big family oriented guy.
Brooke Smith
Yeah. Puerto Rico is beautiful. I've actually been there because MDF instruments has a factory there. And so a lot of our employess + owners of the company, they all live in Rincon, Puerto Rico. So I've been there and it is absolutely gorgeous.
Kash
Oh my gosh, that's amazing. I actually saw that on your website. And I got so excited.
Brooke Smith
So you're from New York born and raised? Big Family Guy. I have to ask how did you get into nursing? Pediatric Nursing specifically as your specialty and also just Did you always know you wanted to be a nurse? I kind of just want to hear the story of how this came to be.
Kash
Oh, I have a my family that is in the medical field. I have uncles that are dentists, my brother's an eye doctor. But those specialties never really interested me as to like really pursue them. I've always had like a keen for science and wanting to help people. So as I was in college, I majored in public health. And that really opened my eyes to more of a community level health, which is why when I saw that MDF does, like, provide supplies for like mission trips, that was something that really interests me, because I did, I studied abroad in Costa Rica and was able to do public health mission trips over there. And I think so that kind of opened my eyes more to a community level helping, I knew that nursing would be something that would definitely suit me for like my personality, my love for science and helping people. And then as I was going through nursing school, I found that my clinical rotation was amazing. I went to school at Johns Hopkins School of Nursing in their entry into MSN program. And I'm in the pediatric clinical and the experience of being able to think and bring imagination to children and then quickly transition to speaking like whether in a professional manner to the caregiver or parent of the child. That was something that I love, I love that challenge of being able to go back and forth in that way. But I think that's definitely something that pushed me towards pediatrics.
Brooke Smith
So it sounds like you kind of discovered pediatrics and your love for it on your journey into becoming a nurse. Is that right?
Kash
Yeah, I was. I was I would say that was definitely more of a concrete push because prior to nursing school, I've actually never had clinical experience. Like I never stepped foot in the hospital. The only time I was actually in a hospital was that when I was volunteering. I was at Morgan Stanley Children's Hospital in there. Tarnis Kids Club Summer Sizzle Event. It's an organization where for children's sibling program for the siblings of the sick child that's in the hospital. And I've been volunteering there since I was like 12. It's in Washington Heights. So I think actually, that wasmy first paediatric experience but in a non healthcare way, and that was more of like a child life like supportive entertainment way. And that was that was actually probably the first time I felt like working with children or something that was interesting, but I didn't know how I was going to do it, whether it was medical school and nursing school, but I think Tarnis Kids Club I definitely would praise them for opening my eyes to working with children.
Brooke Smith
And I for one, I've seen him a really great personality for Pediatric Nursing and that is inspiring. And obviously, you're very kind. And I think that would make children feel safe. Let's take it back to how this journey kind of began. So you went to college, you got your bachelor's, and then you went into nursing school. Guide us through what this process has been like for you to become a pediatric nurse.
Kash
So I did my four years of college. And of course, it wasn't like the traditional like BSN route. I didn't know I wanted to be a nurse until maybe junior year of college. So I did my bachelor's degree in public health, and was taking prerequisite courses, my junior year, senior year. And one more semester after I graduated. And then I applied to different programs, I was looking at accelerated BSN programs. And I didn't know that Johns Hopkins had an entry into MSN program. And what that basically means Brooke is people that have Duke bachelor's degree in something non nursing, and they do the prerequisites. And there's like any, like three letters of recommendation, you can apply. And it's a 20, I think, like a 22 month program. And it was so cool, because I got to meet people that were 10 years and like a completely different industry or people that were in the Peace Corps. Or people that were starting out like me where they did college, and then they realize they want to do nursing, like right away. And you after that those 22 months you graduate with a Master's of Science in Nursing, and then that makes you eligible to sit for the NCLEX RN. So a lot of people think they have an NP license, but I think that was like, like a thing. It's like, it's not it's a master's level RN license, not a master's level, np license. And how's that transition to pediatrics? From there, and once you graduate, you could decide what other specialty you want to do. I really enjoyed my pediatric clinical at Johns Hopkins Hospital. And but you could do you know, any kind of specialty, I have friends that are in their emergency department, Psych units, have some friends that are doing like operating room outpatient stuff. So from there, you just kind of choose which one you want and just apply as a new grad.
Brooke Smith
Yeah, I've really been learning a lot about the healthcare industry, and just especially in nursing, all the different paths that you can take to get to where you want to get to it's not always just this like one linear way of doing it. Yeah. And it's so interesting, because I feel like everybody I talked to it's a different way, they found a different way. It's not the same way, like nobody does it the same way. But it's really that's really inspiring, and it should inspire people who are listening, who maybe think oh, man, you know, I didn't study anything that had to do with this, like, how hard is it now for me to do this, if there have an interest in it, or if you're just even not sure, there's it sounds like there's a lot of ways to get in and do your do your due diligence and figure it out. But I love that you did Community Health, and then you went in and got your MSN, and that John Hopkins Medical School. But um, I so I want to talk a little bit about the NCLEX. Because I know from some of your your social media posts, I know that you had a little bit of a hiccups there. And I myself, think you're so inspiring. Because I'm a big believer in persistence and perseverance because of things that I've been through in my life. I know that, you know, you fall down three times, you fall down seven times get up eight kind of thing. And so I would love to just talk a little bit about what that journey was like for you about how did you study for the NCLEX? And how did you get through that process?
Kash
Yes, so that was definitely not the most linear path. And that's actually something looking back on that I'm happy about because I feel that things happen for a reason. And so that path started when I graduated nursing school, August of 2021. And I gave myself like a month to study for the board exam. And I use I ended up using like four different like NCLEX review courses before I actually passed. But how did that process go? So I remember, after the first time I didn't pass in September of 2021. It's devastating, you know, you kind of have like a setback you're not, you may feel like you're not as equipped to continue. And especially when you see like your your colleagues and your fellow classmates that you graduated with start passing. And it could be it could it could sit with you differently. And I think that it really started becoming a mindset Brooke of everyone has their own journey. And this is just part of my testimony. I believe that failure is the mother of success. And that as you said the rock kiboko I believe it was like failed, not getting knocked down seven, like get up eat. And it was definitely my case, he was getting knocked down three times because I didn't pass three times. And I'm on my fourth attempt I passed. And I took it September 2021, November 2021. And then I moved from Maryland because I was living in Maryland after nursing school for a little bit and moved back to New York. And then that like to paperwork, so I get like my, like NCLEX like reregistered, so then I took it again in March 2022. And then I just passed it, June 16. So anyone out there that is in there about to graduate nursing school, or they are studying for their NCLEX right now, or even they already did not pass on their first try. That's advice I can give you is to give yourself first give yourself the time to process. What just happened, you know, because it's your own self talk is very important, especially when it comes to the NCLEX. Because it's just you and the computer taking the exam. So step one, if you didn't pass, like take a week off, like regather yourself, go do something fun with your family, friends. And then when you come back to start studying, take a deep breath, focus on what you can control, and then keep moving forward. Because life is life is always there through challenges. It's just how do we respond to those challenges in order to grow?
Brooke Smith
So beautifully said I think determination is the key here. If you want something, and you want to go after it, don't take no for an answer. Keep going. Keep keep pounding that pavement, until you get that yes, because you can do anything you set your mind to I'm a big believer of that big proponent of anything you can set your mind to you can achieve. But it's not always easy. It's not going to happen the first time necessarily, or the second or the third, you know, but how bad do you want it? And how bad are you going to fight for what you want. And I think for you, I can imagine that it's a very sweet victory, and that you earned it. And I'm sure you're so proud of yourself. And I hope you are we're proud of you. And I know that your family must be also very proud of you. But I would love to just hear a little bit about the changes that you made each time you went, you know, it's hard. I talked to nursing students or veterinarians who were trying to get into vet school, we talked about this a lot of times because sometimes, you know, they don't get in the first time and their mental health wise, it can take a real toll on their self esteem, their confidence, they start questioning whether this is for them whether they should be doing this because it wasn't hard for their friend. So I would just kind of love to hear if what you what you were telling yourself how you kind of got through that rejection, if you will, or redirection as I know you'd like to say in your life and just to keep going because I think sometimes people have a hard time finding that motivation. When they keep getting no I think a lot of people would have given up. And I just want to hear why how you did it, why you didn't, and just to inspire other people to not never give up on something that they want.
Kash
So the journey was definitely, like I said, not linear. And what I did specifically for all these NCLEX test takers out here. I started off with UWorld and Mark clinic. And then I I think the first time around, it was just the nerves, you know, it's a big exam, it's your first time taking it. So you're not you don't know what to expect. For the second time I maybe it was I was lacking content, maybe I wasn't studying the right way. And it's all individual, you know, what someone's performance like, it's just like in nursing school, the way you study in nursing school is not the same way someone else is gonna study in nursing school. For me, it was hard for me the challenge was, I'm a very social learner. So in nursing school, shout out to my study group, we would just go on Zoom and just like go through the content study for the material. And that's how we just did it. Like it was like three or four people. And we just met on Zoom. But the NCLEX is very individualistic, because everyone has their own timeline, whether there's a job that they need to study sooner for because that job lined up or family or whatever. So studying for the NCLEX has became like a very individual task for me, which was its own challenge in itself, because I'm again, I'm a very social learner. But ultimately, what, what was the difference? Because I've gotten this question before from friends, what was the difference from your first, second, third, all the way to your fourth time, and that is persistence. And we're focusing on your form. My mentor, Mike Linhares. He's the founder of simple nursing, which is an NCLEX review program. He told me to just keep on focusing on your form, and then the result will come. I feel like that could be applied to a lot in life. When you just focus on your process and your journey, instead of the final destination, the destination is going to arise. So what does that look like to be? Let's speak logistics you're focusing on like, you start off by focusing on your top three weak, weakest subjects. For me that was like maternal health, mental health, and I think pharmacology, and you just keep on like, you start there. And I did like 60 questions a day, 60 to 75 questions a day. And I would write that, like, there's a quote that goes on what is measured upon is improved upon. So I wrote down the times, I was studying whether, okay, I study for, from 2pm to 3pm. And then I took a 15 minute break, and I was back at it at 315, all the way to 430. And then I would check, I would like write down my net time and end up being like five to six hours of diligent studying per day, doing that five to six days a week, and gave myself a month and a half to study after the third time to the fourth attempt. And I use simple nursing for content review. And I use UWorld, for questions. And I think the name of the game is consistency and focusing on your form. That is probably the best advice I could give. I'll be very transparent, I was not that persistent. After my second attempt to going into my third attempt, there was just some family emergencies that were happening. And I think I got a little cloudy and how much time and actual studying I was able to do due to those family emergencies. And as a result, I didn't pass their time. But luckily, after the, between the third and fourth time was my time, like, Okay, I'm going to do this, and just gonna dedicate myself for the next month and a half. And I got a tutor. And I think that a mentor is always good because they could see your blind spots that you can't see. So definitely shout out to simple nursing for helping with that content. I really like to offer someone nursing, just because it was I guess I'm a visual learner Social Learner. So the video rationales and the mnemonics memory tricks, and animations really helped with studying for the NCLEX. And the on the day of the exam. I think it was the day of the exam was definitely a mindset of just believing in your believing in your work and being confident that the preparation that you put in is going to show itself and take deep breaths, you know, make sure you use your brakes, and keep it keep a good head. It's basic, really keeping a good head over your shoulders.
Brooke Smith
That's great advice. Yeah, I know, the NCLEX isn't easy. I had no idea it was 300 minutes long. That equates to what five hours? I think, yes, I have hours. So you know, a lot of time, it's not an easy test to go through, to put yourself do so again, congratulations, you earned it, you deserved it, we're so happy for you. I know, it's not not an easy thing to do. It's for everyone listening and watching, I hope you find cash inspiring in his journey with the NCLEX. Because don't don't just give up one time, two times three times, it doesn't matter how long it takes you is it really doesn't. I mean, we have time, and everybody's journey is different. And it's not going to look like the person next to you. And I always say that comparison is the thief of joy. So when I find myself doing that were like, Oh, well, I'm not quite as far along, or I'm kind of lacking in this department. Like I said, like I have all my own paper. Everyone has their own journey. And you know, that's the part of life that's fun is the journey because that makes you grow that makes you learn, I'm sure that you're gonna have a different appreciation for this now than you would have if you had just passed it right out the gate. And it was easy, you know. So it adds a little character to you and it and it also proves to yourself you prove to yourself cache that no matter the obstacles, no matter how many nodes you get, you have tenacity, you have perseverance you're determined and you're not going to take no for an answer. Now you know that for sure about yourself, because I have a feeling that if it took you eight times, you would have done it eight times. So that is a really good character quality. And that's the kind of quality that we need more of in this world. You know, I think a lot of times with attention spans and things. It's easy to just be like, Oh, that's too hard. I'm gonna give up. But you prove that, that if you don't give up and you keep going, then you can achieve your goals and your dreams.
Kash
I really appreciate those words. Those kind words. Thank you. Yes, I it definitely does not come with its own challenges. And it can feel lonely at times, just because, like with failure, there's always that setback, but I feel like it's your support system and your self talk is really important. And like you said, I was determined to keep going I did not come this far to do nursing school just to not pass the NCLEX and change my whole career. And I've heard stories of actually people doing that and everyone have no reason. But I just knew that wasn't gonna be my story listeners listening to this podcast right now. Definitely keep going. The one quote, if you do feel like is there early, fail often fail forward, fail early fail often fail forward. And I think that has been a theme in my life that I've been proud to say that like it's led me to this position.
Brooke Smith
Absolutely. One more quote there because I have one. And it's your tell me, yeah, it's, "I'd rather be a failure at something I love than a success at something I hate". And I think that that's a really good way that in my life that I've gotten through things that have been challenging our heart, when I fail at something, I'm like, Well, I would rather fail at this, knowing that that's where my heart is set. That's where I'm going. That's where I'm determined to be, and fail at that and keep trying, then do something just to do it. Because I can, you know, and maybe don't like that. And maybe that's not actually my passion. So yeah, I think just listening to your heart following your passion, and not taking no for an answer. I think it's the big takeaway.
Kash
That's a great quote. I like that. I think it's when you have a strong enough why as my my other mentor, with my one of my professors, Dr. Jennifer molesky, she always after I failed the first time, she was like, she one of the things she said was like remembering your why, you know, and I feel like if you have a strong enough why that's going to keep you going to what your ultimate goal is. And it's really is a mind game, a mindset game, studying for the NCLEX, especially after failure, then especially after another failure, and then one more failure, because there were three alts it's all part of my testimony, you know, if I could just inspire another student, another nursing grad, to never give up on their goal, even though as as cheesy as that sounds, but if I let one failure dictate how I was going to spend the rest of my life, I would have been a completely different scenario than I am right now.
Brooke Smith
Okay, I want to switch gears a little bit and I want to talk about , two things. I noticed that people call you the backflipping. Nurse. Is that is that the right term?
Kash
Yeah.
Brooke Smith
So I need to hear why are you called this? Why is that your nickname? And then secondly, I want to talk about SpiderMan. So let's get into The Backflipping Nurse. They might intertwine here I don't know. But for anyone listening and watching doesn't know, Kash over here has a Spider Man journey as well. And I really want to get into talking about that. Because I know that can kind of connect into pediatrics. . It wasn't something that it seems like happened later in life. It seems like it's something that's kind of been following you since you were young. So let's let's dive in there.
Kash
You did your research. I was awesome. Brooke. Yes. I so I probably may not know, Brooke is I've been backflipping for like, since I was like fourth grade. And that's like 10 I don't know what grade fourth grade is what I've been doing back when my mom taught me she was a gymnast in high school. And we had a trampoline in my backyard growing up. And whereas I evolved to now Well, I've been called the like the International backflip or or the back looping nurse. I did a Scandinavian tour a couple a couple years ago. And on that tour, I was doing backflips in like all like all the Scandinavian countries. And that was awesome. creating that content and being a part of that journey. I think from there to seeing how people interacted whether you were because I was interacting with people that didn't even speak English, but like being able to just like smile and like have that energy personality and doing backflips and seeing them do backflips or cartwheels. It was something that was really cool. Specifically, there was I was in Norway. And there was like this little girl that was doing backflips going down a hill. So I started doing backflips with her and her mom was like her mom and her siblings were all just like cropping and we were just like, having like a grand time in a park in Norway. And it all started from this feeling of backwards. It's so that was really funny.
Brooke Smith
I need to clarify a little bit. What do you mean that you went on like a back flipping tour? What does that mean? Like how, what does it I need to know?
Kash
I just I had the opportunity and at the time to go to Sweden, Norway, Denmark, and instead of Finland. I went to look good. That's Iceland. Yeah, Iceland and then I said Norway. I think it was five countries I missing one. But I just had the opportunity to go and it was such an awesome experience is a different culture. Also, Denmark is a beautiful country. Definitely recommend it. I was like probably my most fun experience there. But that experience was just so cool. I just was able to it was I just did backflips and people loved it. And then I was like, let me do more backflips because It makes me happy seeing other people happy. And I think that kind of goes hand in hand with nursing, you know, like, the giving aspect.
Brooke Smith
So okay, so are you doing backflips? Like, in front of your patients to cheer them up? Like, how did you get the nickname The Backflipping Nurse? Are you bringing this into your career like as well? Or is this just something you're doing outside of your career?
Kash
I know, I'm definitely gonna bring this into my career. So how this started was, I was like, I was in a pediatric rotation. And the kids just really, I realized that, to me, there's no greater feeling like no greater fulfillment, than being able to manifest and imagination. So children can feel that they are a kid again, outside of their diagnosis. And that's probably like the root of why I chose pediatrics. It's that journey. It's that imagine bringing that imagination and making children feel like they're not their diagnosis, which is has led me to want to pursue nursing, Pediatric Nursing. My fifth semester practicum at Johns Hopkins was at Kennedy Krieger Institute Rehabilitation Hospital in Baltimore, Maryland. And there's a lot of one on one time that you get to have with your patients. And I had a patient that was a really big Spider Man fan. And that was awesome. So when I found out as an as, like a student, Nurse cash, when I found out that my patient was a really big Spider Man fan, I said, Would you like to meet Spider Man? Like, what if we're, how would you how would you feel if Spider Man was here? And I really wanted it like you're already laughing about it. Like it was such an awesome experience. He was. You were six years old. And he had a really complex a complex case. And my nurse manager allowed me to be Spider Man. So I got changed in the nurse's station, and I'm all suited up. And I do my spider web. My spider crawl into his room. I hit a backflip in sight, like spinning my webs. And he his face was a static like imagine, like a six year old with a big smile on his face. And he's just sitting up in his hospital bed and he just can't believe that spider man is in his room. Yeah, just Spider Man doll right here. He's wearing Spider Man pajamas. And it was amazing. And then the staff also had a kick at it too. We started taking pictures in the nurse's station. The staff and i i Spider Man. And what was so cool too was you know, being able I think this is such a unique experience. Being able to be a pediatric nurse and Spider Man, I was fumbling for this to happen. So I knew that the patient had his diagnosis left him with a weaker range of motion and his left arm. So he was only able to like move with his right arm. And I Spider Man I can do that as student nurse cash. So as I'm in there as Spider Man, I knew to make sure that high five him with his stronger arm than his weaker on because, again, I don't I want him to feel like himself now remind him his diagnosis. So that was something that I knew as Spider Man, but because I was nervous cash not because I was just Spider Man. And I think that's something that sets me apart about that experience. So yeah, it was awesome. It was awesome experience.
Brooke Smith
That's so great. I love it so much. I think you need to be carrying that Spider Man costume around with you everywhere you go just in case because you never know when you're going to need it. You never know when you're going to need to a little child up like that. I mean, I imagined but I did see a picture of you. From back in the day when you were like six or so it looks like wearing Spider Man. Costume so your love for spider man den just like Star Wars. Tell me a little bit about your own passion for spider man here.
Kash
Yes. Oh man. I have been a Spider Man fan since as long as I was able to put like my own clothes on you know, you're right. That is I know exactly what he was talking about. So my mom Oh, so started with Tobey Maguire Spider Man in like 2002 When that first movie came out, and similar to that kid in the hospital bed I had like spider man pajamas Spider Man lunchbox, Spider Man like bedroom decorations. So I just I've always been an active kid growing up and seeing like this, like web shooting like back flipping superhero on screen was so cool. And I loved the story of spider man how he had this double life that no one knew and I think that was I think that's kind of how that trends and so what I do know is I could be murse cash and also be Spider Man and I could wear the mask and no one knows you know these keeps the imagination alive for these children. And I love that you said by the way about make sure you care that spider man theater and I actually used that as a talking point in my interview I pediatric physician that I'm starting next month and it's so but it may be it could come across as inappropriate to talk about being Spider Man in the professional nursing interview, but here it fits so well.
Brooke Smith
I love this whole Spider Man thing. I think it's amazing especially in the specialty you're in with pediatrics. So you're going to be in the hospital working as a pediatric nurse Are you going to be in the emergency room?
Kash
I'm going to be starting at Morgan Stanley NewYork Presbyterian Morgan Stanley Children's Hospital, it's actually where I have been volunteering for like 12 doing Charnas Kids Club summer sizzle events I was telling you about earlier. And that like I said, that was like my first experience really like working with sick children and their siblings. So that is a hospital in Manhattan. I'm going to be specifically on a cardiac neuro med surg floor. So you were right earlier, you know, I didn't have to work in a hospital, I could have been in a pediatric office, pediatric clinic, outpatient office, or you could work in a hospital. I have friends that are doing pediatric emergency department that was a little too fast paced for me. So I'm really happy with where I'm at which also, I'm really excited to get to do this interview because you like cardiac, you know, gotta make sure like, you hear you can hear all the bells and whistles. It's actually really I'm really excited to because there's a my nurse manager said that this hospital it's cardiac unit has like like the second most cardiac transplant patients like work load in like all in New York State, which I'm excited about. So I'll be exposed to kids with cardiac defects of cardiac transplant. And for Neuro sighs I know that. Specifically I'll be working with like seizure disorder patients.
Brooke Smith
Okay. Yeah, that's, that's really helpful. That clarifies something for me, I kind of have a better picture of what it is you're gonna be doing. Okay, so I know that you've been volunteering since you were 12. Working with sick children. So I can tell you're really positive person. But I would love to hear a little bit about, I know that being around children who are sick, isn't always the easiest thing, because you're going to feel a lot of things when you know, they're sick. So mental health wise, how do you unplug from that? How do you get through the harder days just for anybody listening or watching who might have their own hard days in their profession or specialty? Do you have any advice or any any tips on on how you get through those harder days,
Kash
I personally, I like to, I realize that practicing mindfulness has been a very helpful thing for me, especially on this NCLEX journey. So practicing mindfulness can look like a lot of different things. It could be yoga, it could be meditation. Mindfulness is just practice to create more clarity, and practice being present. So for me, I see that as taking a run, and I've actually realized that running with no music has been a game changer because I usually always run with music, but I find myself being so like, caught up and like what the song is, or like, clicking play or something. But if I'm running like without, like, without music, I find myself just being more attuned to my environment, hearing the birds like chirp. Like feeling the wind. So I definitely I like growing, I've always been athletic and athletic guy. So other ways I like to is I'm a big family person, like I said, so I really enjoy taking it back with my family or friends and watching a movie going out. Although there are times when I just want like to watch TV by myself do something like this, you know, like, no noise, no noise. So, those are ways that I find I started I create balance with a mentally stressful day.
Brooke Smith
And I think to being Spider Man and coming in when those children are not feeling well are having a hard time like that's going to, you know, be the silver lining, that's going to be a positive spin on things because we can't control what we can't control but we can make things better. You know, the experience doesn't have to be horrible all the time. Even if you're going through something horrifying or difficult. You know, I think there's always a positive side you can take where you can just at least bring some sort of light and hope and love into something because that's what we're here for. You know, that's we're here to make the world better and I think just making someone smile even for a minute is you know, it's changing their life. It's changing their day and and bringing a new energy into things and I can tell that you are very I know I've said this a few times but you You're very positive person they can tell. So I'm sure that just being around you does change your mood does change a room,
Kash
I really appreciate you saying that. It's been a great journey to impact like, like nursing school friends. And now these patients, I'm really looking forward for this next training, it's gonna, it's gonna be a great one, a lot of learning is going to happen.
Brooke Smith
Oh, I want to know, what are your needs for a stethoscope? Because now you're going to be in the cardiology section,
Kash
I'm going to be doing pediatric cardiology specialty.
Brooke Smith
What is your need for a stethoscope? I ask? Because obviously, you're gonna want to a cardiology stethoscope. But are you going to be using primarily a pediatric attachment attachment? Or will you also need an infant attachment?
Kash
It's a great question. I know that my unit is all age ranges from zero to 18. So I definitely will be changing the attachment when I listen to like heart murmurs and cardiac sat heart sounds. So I know that MDF has a wide range of equipment for that. So I definitely would be looking more into that because yes, you're right there we like, the way I'm gonna assess like a two month old is gonna be different than asess a 15 year old,
Brooke Smith
I think for you the Procardial Titanium stethoscope because it's going to be lightweight. So being you know, all day having around your neck or your pockets not gonna be really heavy. And then it'll have the attachments, it'll have pediatric, it'll have adult and infant as well, just in case you need it. I know that nursing is predominantly a female field, but you're representing the males over there love to just kind of talk about what you know, what being a male nurse to you the experience of it, what it means to you, and kind of just being able to represent the other side of a predominantly, you know, female field,
Kash
My Instagram, @mursekash started at because, well, I'm part of a growing segment in my industry. For example, in 1977, there were 27,000 Male nurses, compared to 1.3 million female nurses in 1977. Now fast forward to 2018, there were 310,000 Male nurses and 3.3 million female nurses. So in total, like as of 2018, like there's 3.6 million nurses in the United States, and 8.5% of them were male nurses. So like you said, it is it's growing, but it's obviously predominantly female occupation. So I wanted to create my name to be something that represents, like something different, something that's growing. So that has been a really unique experience. I actually, my that answered the question of how does it feel, I've actually kind of it was a I walked into it feeling kind of, like, normalized by it. Because in high school, I was a wrestler in high school and a little bit of college. But my senior year of high school along with wrestling, I did cheerleading. And that was my first experience being like, you know, a guy on a predominantly female, like, I was only the guy, I was the only guy on the cheer team. And that was a unique experience for me really, like, was my first time working with like, a whole bunch of girls being like 17 years old. And how does that translate into nursing, I just, I realized that there's work to be done and creating a cohesive, cooperative environment. And like, just like working together, it is creating a great positive atmosphere for being a nurse. And I feel that being a part of this growing segment in the industry is a very unique, special time to be a male nurse. With the COVID-19 pandemic, there are a lot more guys that want to go into the nursing sector, and become male nurses. And I think that's really exciting. So there's a lot a lot of room for growth in this industry,
Brooke Smith
a lot of room for growth. I think as people start to do it, people like you, you just inspire other people, younger people who look up to maybe some of those sick kids that you help, you know, you're impacting their life, and they look and they go, this is my superhero, I want to grow up and be a nurse one day, that's how it starts, you know, and when, when younger people have someone to look up to that path becomes easier for them to follow. I think it's really important to, to, to show people what you can be and to say, hey, you know, you a little kid looks up to you and says, Oh, I want to be like cash. I want to be a backflipping nurse like cash, you can inspire and help me and make me feel better. I have one emergency medicine doctor on when he was a kid. He went to the doctor and he was sick and the doctor you know, fixed him. And I think it was just with medication. He had an allergy reaction or something like that he thought doctors were magicians. He's like when I was a kid, I thought it was magic because I, I wasn't feeling good. And then all of a sudden, this, this doctor came and gave me medication made me better. And I thought I want to grow up and I want to be a magician like him. And that's how the story started. A lot of people that I talked to, you know, they're inspired by things that happened to them in their lives, care, someone cared for their loved one or cared for them in a way that moved them and made them feel safe and said, I want to make other people feel that way. So thank you for doing what you do and going out there and kind of saying, hey, being proud and awesome to see. I would love to also just, I would love for you to drop your social media handle. Just verbally say it out loud and then also spell it for everyone who's listening in case so they can know how to spell cache it's with a que nada see. Just kind of just go through that for everybody so that they can find find you.
Kash
So you could find me on Instagram and Tiktok @mursekash mu r s e Kash KSH all together. So you find me there content related to my nursing journey and NCLEX related content. And yeah, my pediatric story. So looking forward to seeing you on there. Definitely cold backflips in the near future.
Brooke Smith
Thank you so much for joining our MDF Instruments Crafting Wellness Podcast. It has been such a pleasure having you on and we're really excited to continue following your journey
Kash
Thank youso much Brooke and thank you so much MDF for all of your support and having me on.
WELCOME TO THE NEW SCHOOL.
LET'S ROLL
BE THE CAUSE
This is our oath and we need you. The WORLD needs you. We need your heart, your mind, your skills, and your partnership
MORE CRAFTING WELLNESS STORIES
IN HONOR OF OUR WELLNESS HEROES
An island, its people, and a man in the pursuit of a brighter future. A story that sheds light on resilience, and how we can always get back up, no matter how many times we're knocked down. Whether in the ICU as a Nurse, in his community as a Pastor, or throughout the island as a responder to any crisis, José Garcia has dedicated his life to serving others and his home, Puerto Rico.
View Details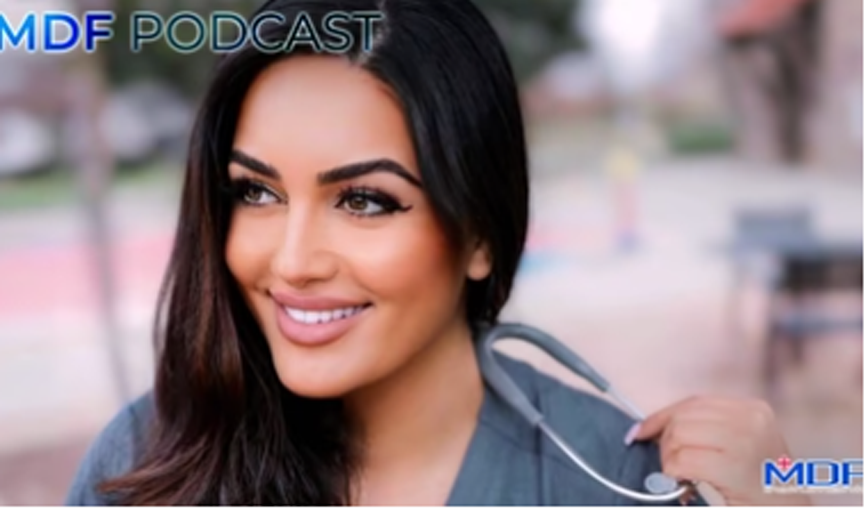 MDF Instruments Crafting Wellness Podcast sat down with medical student Zam to discuss how she navigates getting through medical school as an IMG.
View Details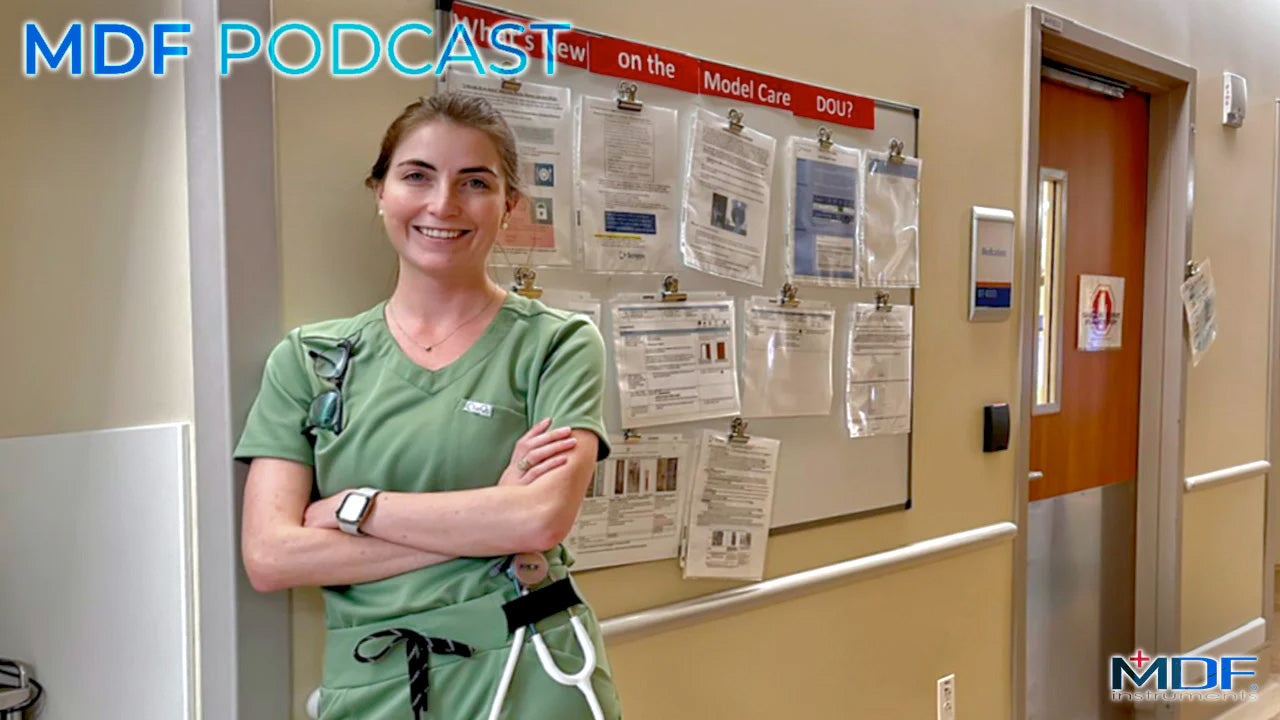 Kathryn Dickson BSN, RN, DNP, ENP-C, FNP-C, the CEO and Founder of OliveUs Apparel, recently joined MDF Instruments Crafting Wellness Podcast to talk about nursing and entrepreneurship in the medical field. Through her story, Kathryn proves that we can be many things at once and how she combined her passion for fashion and medicine into the development of OliveUs Scrubs.
View Details